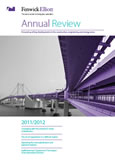 October 11, 2011
Fenwick Elliott Annual Review 2011/2012
Our 15th Review contains our usual round up of the key developments in the construction and energy arena over the past year. This includes a summary of everything you need to know about the payment and adjudication changes introduced in October 2011. We also take the opportunity to review a number of key questions regarding the formation of your contract. Whenever a dispute arises, the first question is always: what does the contract mean? We have articles about contract formation, implied terms, subject to contract negotiations and the classic "battle of the forms".
There are plenty more articles for your consideration, the links to which are below or you can download a PDF of the full Review by completing the "Download our Annual Review" form. If you would like a hard copy of this Annual Review, please contact Jeremy Glover with your name, company name, address and email.
Annual Review articles
So what is the impact of the Remedies Directive so far?
Procurement regulations – the future
Building information modelling (BIM): the devil is not in the legal detail
Changes to the Construction Act
Recent changes to JCT and NEC standard form contracts
The art of negotiation in a difficult market
Dictionary of construction terms
Other Annual Reviews
Download our latest Annual Review
Or Read Online
Subscribe to our newsletters
We regularly produce newsletters, articles and papers to keep our clients and other stakeholders up to date with the latest developments and debates in construction and energy law. You can browse some of our most recent materials Here, or sign up to our monthly publications below to receive them directly to your inbox.