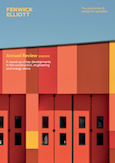 November 7, 2018
Fenwick Elliott Annual Review 2018/2019
This year's Review features a wide range of articles, reflecting the typically diverse range of issues we have found ourselves looking at over the past year. We also revisit cases from previous years including considering the Supreme Court's take on anti-oral variation clauses. Regardless of their decision, wherever there is an oral instruction or variation, as a matter of good practice make sure that it is recorded in writing. In last year's Review we looked at the way concurrent delay was dealt with. This followed a rare decision from the TCC on the topic and this year that case reached the Court of Appeal.
We provide further practical advice with a guide to signing contracts, which is followed by an article that explores Third Party Agreements. Our projects team have noted that recently it has become a constantly recurring theme when reviewing amendments to building contracts that the contractor has been expected to assume all of the employer's obligations, liabilities and risks under agreements the employer has entered into "up the line" that relate to the carrying out of the works as if these obligations were set out in the building contract. 
In this year's Review we have included a couple of sample entries from the Fenwick Elliott Blog, including one that looks at the new DIAC arbitration rules. As you may know, our office in Dubai has been open for over three years now and goes from strength to strength. Offering a fully integrated specialist construction law and arbitration practice operating from the DMCC, the office has Arabic speakers with knowledge of local laws and practices, as well as international expertise in construction law. 
From an international arbitration point of view, the key development in the UAE in 2018 was the long-awaited introduction of a new Arbitration Act. We explain the key features of the legislation. The new Act stands as an expression of intent to modernise and bring the arbitration law in the UAE in line with international best practice.      
The year 2017 saw the introduction of the second edition of the FIDIC Form. Our international newsletter, International Quarterly, has featured a number of articles about the new Contract. In the Review we look at the treatment of force majeure: as had been well foreshadowed, in the new edition, clause 19 which was headed "force majeure" has been replaced by clause 18, "exceptional events". This is an interesting change; the term force majeure is typically provided for within most civil codes, whereas it is not a term of art under the common law. We also look at how FIDIC have amended the dispute resolution provisions to address the provisions relating to "binding but not final" DAB decisions.
Of course, we also feature the latest updates from the adjudication world, considering the qualities that make a good adjudicator. One of our features asks whether a company in liquidation can adjudicate when the dispute includes determination of any claim for further sums said to be due to the referring party. We then review a decision of Mr Justice Fraser where he extended the long-established grounds on which a party can seek a stay of execution of an adjudicator's decision. 
The same Judge, in June of this year, gave the final judgment (perhaps for now) in a dispute where there had been four adjudications and numerous judgments, including those resulting from a split trial (with one determining liability in 2017 and the other quantum in June 2018). Another one of our featured articles sets out some of the lessons that we can all learn from the long-running litigation.
Our monthly newsletter Insight provides practical information on topical issues affecting the building, engineering and energy sectors. We have reproduced April's article which focuses on the Bribery Act.  It has been said that addressing bribery is a good thing because it creates the conditions for free markets to flourish, something which may be of some significance with Brexit just around the corner. 
Finally, our Review features an interview with Victoria Russell, the recent recipient of The Society of Construction Law's President Medal 2018 for her outstanding contribution to construction law. We discuss the changes she has seen to the way in which construction disputes are dealt with. 
Annual Review articles
How the construction dispute landscape has changed
Executing contracts: how to get it right
Third-Party agreements: a contractor's perspective
Valuable lessons in valuation (and expensive lessons in conduct)
Can a liquidator adjudicate a dispute that arose under a construction contract?
When can a party seek a stay of an adjudicator's decision?
The Bribery Act 2010: a refresher
Concurrent Delay: Allocating the Risk
FIDIC, force majeure, exceptional events and the "but for" test
The 2017 FIDIC dispute resolution procedure: the new dispute resolution mechanism
What makes a good adjudicator?
Other Annual Reviews
Download our latest Annual Review
Or Read Online
Subscribe to our newsletters
We regularly produce newsletters, articles and papers to keep our clients and other stakeholders up to date with the latest developments and debates in construction and energy law. You can browse some of our most recent materials Here, or sign up to our monthly publications below to receive them directly to your inbox.