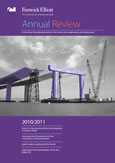 October 15, 2010
Fenwick Elliott Annual Review 2010/2011
According to research published on 20 September 2010, by TheCityUK's legal services and dispute resolution group, the use of arbitration and mediation in the UK has risen dramatically - almost certainly as a consequence of the current financial crisis. Our 14th Review therefore looks at the revised TCC Court Guide which came into effect at the beginning of October 2010. One of the new features of the Guide is that it specifically recognises the possibility of introducing the expert hot tub to trials, so naturally enough we investigate just what that is all about. The TCC Guide also stresses the importance of mediation and we summarise the findings of the 2010 report entitled "Mediating Construction Disputes" carried out by a Fenwick Elliott-led team.
There are plenty more articles for your consideration, the links to which are below or you can download a PDF of the full Review by completing the "Download our Annual Review" form. If you would like a hard copy of this Annual Review, please contact Jeremy Glover with your name, company name, address and email.
Annual Review articles
Mediating Construction Disputes – An Evaluation of Existing Practice
Latest developments in adjudication - insolvency
Alternatives to adjudication: Part 8 proceedings
The continued rise of time bars?
Assessing claims for extensions of time and disruption: concurrency and apportionment
Look before you leap - pre-contract safeguards
Challenging the tender process: documents and disclosure
FIDIC: recoverability of "cost"
International arbitration - case law update
The continued rise of the NEC3
The RIBA Agreements 2010: are we there yet?
Other Annual Reviews
Download our latest Annual Review
Or Read Online
Subscribe to our newsletters
We regularly produce newsletters, articles and papers to keep our clients and other stakeholders up to date with the latest developments and debates in construction and energy law. You can browse some of our most recent materials Here, or sign up to our monthly publications below to receive them directly to your inbox.