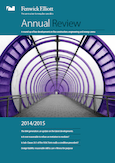 November 11, 2014
Fenwick Elliott Annual Review 2014/2015
One of the features of last year's Review was the impact in the UK of the latest reforms to the court procedural rules or CPR. The changes introduced led to a number of controversial decisions. The Review features two contrasting pieces. We provide an update on what you need to know, about BIM focusing on the legal and contractual implications. In the summer of 2014, Mr Justice Akenhead delivered a very lengthy judgment involving a dispute under the FIDIC yellow book. The Review features three articles arising out of that judgment. Early 2014 saw the publication of new ICC rules on mediation, and our Review this year begins with a look at alternative dispute resolution or ADR. Finally we also look at arbitration agreements.
There are plenty more articles for your consideration, the links to which are below or you can download a PDF of the full Review by completing the "Download our Annual Review" form. If you would like a hard copy of this Annual Review, please contact Jeremy Glover with your name, company name, address and email.
Annual Review articles
The increasing importance of mediation in the UK
Relief from sanctions in adjudication enforcement proceedings
Understanding your design duty – "reasonable skill and care" vs. "fitness for purpose" – mutually incompatible or comfortably coexistent?
Practical completion: an update
Mind your language: are you sure your bespoke contract is tight enough?
Injunctions, limitation of liability clauses and the meaning of "adequate remedy"
Performance bonds: the UAE Perspective
Conditions precedent: Sub-Clause 20.1 of the FIDIC form of contract
Serving contractual notices under the FIDIC form of contract
Termination by the employer under the FIDIC form of contract
English courts refuse bribery-based application to set aside Dubai arbitration award
Arbitration: was there a binding agreement to arbitrate?
Other Annual Reviews
Download our latest Annual Review
Or Read Online
Subscribe to our newsletters
We regularly produce newsletters, articles and papers to keep our clients and other stakeholders up to date with the latest developments and debates in construction and energy law. You can browse some of our most recent materials Here, or sign up to our monthly publications below to receive them directly to your inbox.