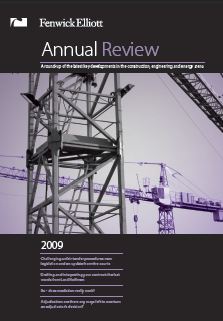 Fenwick Elliott Annual Review 2009/2010
Our 13th Review considers the latest developments in dispute resolution, highlighting Fenwick Elliott's role heading up a team to consider the use of mediation in construction projects. This research was carried out with the support of the Centre of Construction Law and Dispute Resolution at King's College, London and the Technology and Construction Court.
We also focus on adjudication, including an extract from Karen Gidwani's paper at our ever-popular Adjudication Update Seminars, where she set out what you need to bear in mind if you are thinking of commencing an adjudication. And it is not just about legal theory and principles: the real key is preparation. The Review also looks at the latest challenges to adjudicator's decisions.
Following a trend highlighted, the Review discusses the growing number of challenges for breaches of the EU Procurement legislation. We also look at the forthcoming changes to that legislation and on some of the problems with electronic tenders. Continuing the European theme, we review the controversy caused by the European Court of Justice, in the world of International Arbitration in relation to its decision in the West Tankers' case.
There are also a number of articles about the drafting and interpretation of contracts. We consider Lord Hoffman's' views on how the courts should interpret contracts where a dispute has arisen, whilst Simon Tolson sets out some of the differences between bad and common-sense drafting. We also look at practical completion and the latest developments on penalty clauses. Finally, in another article following on from last year, we look at the perhaps unexpectedly heated response to the new RIBA Agreement 2007.
If you would like to subscribe to receive a yearly hard copy of our Annual Review, please contact Jeremy Glover with your name, company name, address and email.
Other Annual Reviews
Download our latest Annual Review
Or Read Online
Subscribe to our newsletters
We regularly produce newsletters, articles and papers to keep our clients and other stakeholders up to date with the latest developments and debates in construction and energy law. You can browse some of our most recent materials Here, or sign up to our monthly publications below to receive them directly to your inbox.