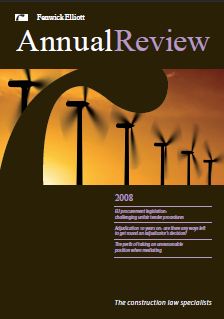 Fenwick Elliott Annual Review 2008/2009
Our 12th Review considers the latest developments in dispute resolution, highlighting the increasing judicial support given to mediation and discussing the ways in which the TCC "encourages" compliance with the pre-action protocol. We also take a look back at adjudication ten years after the implementation of the Housing Grant Act and look to the future with a discussion on the proposed Government reforms to the Act.
The Review discusses the growing number of challenges for breaches of the EU Procurement legislation. There are also articles on framework agreements and two new contracts,the new RIBA Agreement 2007 and the new FIDIC Gold Contract for Design-Build-Operate projects. In addition, given the increasing number of court cases involving letters of intent, we set out some of the ways of overcoming the pitfalls it is all too easy to fall into.
In the last year's Review, we noted the support given by the court to contract terms requiring a contractor to give prompt notice of delay or disruption. Our articles on time bars and the new FIDIC contract, suggest that, although that trend has continued, the courts and contract bodies also recognise the unfair burden that such clauses can sometimes impose on a contractor who may lose the right to make any claim at all, if prompt notice is not given.
In addition, as always, the Review contains its regular round-up of the key construction and engineering cases from the past 12 months taken from the Dispatch newsletter and the Construction Industry Law Letter.
If you would like to subscribe to receive a yearly hard copy of our Annual Review, please contact Jeremy Glover with your name, company name, address and email.
Other Annual Reviews
Download our latest Annual Review
Or Read Online
Subscribe to our newsletters
We regularly produce newsletters, articles and papers to keep our clients and other stakeholders up to date with the latest developments and debates in construction and energy law. You can browse some of our most recent materials Here, or sign up to our monthly publications below to receive them directly to your inbox.