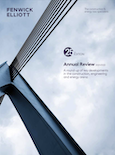 November 19, 2021
Fenwick Elliott Annual Review 2021/2022
 This year our Annual Review celebrates its 25th year. Unsurprisingly we provide our usual adjudication update, looking at one of the perennial challenges to decisions: breaches of natural justice. We also focus on Net Zero, considering the impact of climate change on construction contracts and the government's hydrogen strategy.
Given that 2021 has seen a number of cases involving experts, particularly where the courts have been critical of the approach of certain experts, we explore what this means in detail, delving into expert shopping. We also consider bias and conflicts of interest, focussing on cases involving both experts and arbitrators.
Our review of International Arbitration, takes in conflicts of interest, an update from Dubai, a potential new approach to witness evidence, the new UNCITRAL Expedited Arbitration Rules and Investment Treaty Arbitration. Whilst, in the UK one of the more important decisions was the Triple Point decision about liquidated damages, we explain what you need to know
Our Annual Review looks at recent developments surrounding bonds and the implications of taking over and completing a half-done construction project. We also ask when terms can be implied into contracts and look at liability for unforeseeable ground conditions. We then explain more about the special features of PFI contracts, as well as discussing a (rare) PFI court case from 2021.
We follow this up with our regular Case Law Update, including adjudication decisions from Dispatch and other key cases from the Construction Industry Law Letter. You can find links to the articles mentioned below or download a PDF of the complete Annual Review using the "Download" button on the right. If you would like to receive a hard copy of the Annual Review please contact marketing@fenwickelliott.com.
Annual Review articles
Triple Point: more than simply 'liquidated damages'
Resisting bond calls in the English courts: do recent developments provide hope for contractors?
A practical guide to implied terms
Infelicities and oddities in PFI contracts
Update on natural justice in adjudication
Prater Ltd v Sisk – when cherry picking is and isn't fruitful
What lies beneath: ground risk and site conditions
Expert Evidence: the English Court send a message to experts
Investment treaty arbitration: another avenue for international construction disputes
DIFC-LCIA Arbitration Centre subsumed in DIAC
Bias and conflict-of-interest in international arbitration
Do you really remember that? Witness evidence in international arbitration
The UNCITRAL Expedited Arbitration Rules enter into force
The UK Hydrogen Strategy: one roadmap to Net Zero
"Net Zero by 2050. Blah, blah, blah."
The impact of climate change on contracts and the law
Fenwick Elliott's Top 15 cases of 1996
Simon Tolson's Top 15 cases of 2021
Other Annual Reviews
Download our latest Annual Review
Or Read Online
Subscribe to our newsletters
We regularly produce newsletters, articles and papers to keep our clients and other stakeholders up to date with the latest developments and debates in construction and energy law. You can browse some of our most recent materials Here, or sign up to our monthly publications below to receive them directly to your inbox.