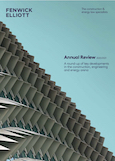 November 26, 2020
Fenwick Elliott Annual Review 2020/2021
As always, our Review contains a round-up of some of the most important developments from our clients' point of view over the past 12 months including, from pages 56, our customary summaries of some of the key legal cases and issues, taken from both our monthly newsletter Dispatch as well as the Construction Industry Law Letter.
2020 will be remembered for one thing and many of our articles in this year's Review reflect the impact of the COVID-19 pandemic.  This includes our first two articles on pages 6 - 13, where Jon Miller looks at the legal implications of COVID-19 on construction contracts and then some of the practical steps parties on projects affected by the pandemic should take. 
That said, as usual the Review features a wide range of articles, reflecting the typically diverse range of issues we have found ourselves looking at over the past year. As always this includes an adjudication update. On pages 36 - 38, I update the Bresco story, looking at both the Supreme Court's decision on whether an insolvent party can ever enforce adjudication decisions and the cases that followed. On pages 34 - 35 Ciaran Williams asks whether the time has come for adjudication to be extended across the entire construction industry, including power generation.  Whilst Martin Ewen, on pages 31 - 33, explains why parties may need to look again at their standard payment and invoicing terms. 
Parties should always review their standard termination provisions, and on pages 42 - 45 Karen Gidwani and Lucinda Robinson provide practical guidance on the issues you need to consider, whether the termination is at common law or under the contract.  Whether abroad or at home, the question of whether or not delay damages apply is always an important one. As Sam Thyne discusses at pages 54 - 55, the New Zealand Supreme Court was asked to clarify the extent of the penalties doctrine.  
Aside from COVID-19, 2020 has been particularly tough for leaseholders of new build properties up and down the country who have found out that their properties are covered in combustible cladding. Rebecca Penney at pages 14 - 15 explains more about this growing scandal. Then Stuart Duffy on pages 16 - 17 looks at two recent cases which relate to cladding flammability issues and considers some of the Government's plans to address the many issues which came to light following the Grenfell tragedy. This is a topic covered too by Simon Tolson in his introduction.
There continue to be a number of developments in the world of digital technology and processes that offer wide-ranging benefits to the construction, energy, infrastructure and legal industries. Dr Stacy Sinclair, introduces our special section on  technology and digital construction on page 18 before writing about data & digital processes on pages 28 - 29.
On pages 19 - 20 Mark Pantry looks at the new Information Protocol published by the UK BIM Framework to support BS EN ISO 19650-2, while Catherine Simpson on pages 24 - 25 looks at the challenges and legal implications of Digital Twins.
On pages 21 - 23 Huw Wilkins asks whether COVID-19 might spark a revolution in offsite modular construction. Jesse Way on pages 39 - 41 discusses the meaning of "building structure", noting that it is not always easy to determine what the design life of a building (or a part of it) is intended to be. 
With the World Green Building Council setting up an Advancing Net Zero project dedicated to supporting market transformation towards 100% net zero carbon buildings by 2050, Natalie Beeraje, on pages 26 - 27, asks whether we are ready for Net Zero. 
With the announcement at the end of last year of its alliance with one of Saudi Arabia's leading law firms, Hammad & Al-Medhar, Fenwick Elliott continues to grow in the Middle East. On pages 48 - 49, James Mullen looks at the current status of Saudi Arabia's "Vision 2030", potentially one of the most ambitious construction projects undertaken on the global stage. On pages 46 - 47 James Cameron discusses the impact and benefits of the Commercial Courts Law in the Kingdom. 
The International Arbitration world has adapted quickly to the changes and restrictions imposed by the pandemic, with everyone adapting to the need for virtual hearings and more. Sana Mahmud on pages 50 - 51 looks at the changes introduced in October 2020 by the new London Court of International Arbitration (LCIA) Rules. Many of the changes were simple tweaks to ensure that the existing rules meet the demands of current best practice and incorporate the use of available communication technology.
One of the key issues in any international arbitration dispute is which law applies to the arbitration agreement. In October of this year, the UK Supreme Court ruled on the correct English approach to answering the question as to which system of law governs the validity and scope of an arbitration agreement when the governing law of the contract containing it differs from the law of the nominated seat or where there is no specified system of law at all. I explain more at pages 52 - 53.
Our website keeps track of our latest legal updates or you can follow us on Twitter or LinkedIn. We have a page dedicated to addressing the impact of COVID-19 on the construction industry. As always, I'd welcome any comments you may have on this year's Review: just send me a message by email to jglover@fenwickelliott.com or on Twitter @jeremyrglover.
Annual Review articles
Coronavirus and construction: the law and practical actions
Proving your claim and what needs to be done now
The cladding scandal continues
Grenfell: remedying defects and establishing change
The new (BIM) Information Protocol
Might Covid-19 spark a revolution in offsite modular construction?
The challenges and legal implications of digital twins
Data & digital processes: beware of the electronic tumble dryer
It's time to review your contract payment terms
Statutory adjudication and the excluded industries
The Bresco story: insolvent claimants and adjudication
Design life and meaning of building structure
Termination: managing the way out of a contract
Saudi Arabia's legal System continues to modernise: the new Commercial Courts Law
The LCIA Arbitration Rules 2020: tweaks for a modern age
International arbitration: governing law
International developments in the penalties doctrine
Other Annual Reviews
Download our latest Annual Review
Or Read Online
Subscribe to our newsletters
We regularly produce newsletters, articles and papers to keep our clients and other stakeholders up to date with the latest developments and debates in construction and energy law. You can browse some of our most recent materials Here, or sign up to our monthly publications below to receive them directly to your inbox.