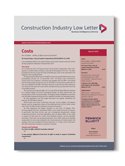 Construction Industry Law Letter
This newsletter reports the latest legal news and developments to professionals involved in the construction industry. Published 10 times a year, it covers at least 40 key cases and highlights the most recent developments in adjudication. It puts the spotlight on changes that may affect the construction industry and the way businesses operate.
Access to Construction Industry Law Letter online gives you the option to search the full archive going back to 1995 by key criteria including date, title, citation, key words and authors. You will also be able to search across the latest issues and archives of every title featured on www.i-law.com [1] that you currently subscribe to at the same time.