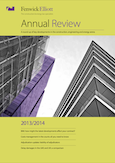 October 9, 2013
Fenwick Elliott Annual Review 2013/2014
One of the most important talking points this year has been the impact of the latest reforms to the CPR or court procedural rules. Our latest Review considers these and other changes to the CPR including those which may have an impact when the court considers whether or not to allow expert evidence. We follow that discussion with an update on the likely changes to the public procurement tender process in 2014. We then look at e-disclosure and its potential impact on trials and provide an update on Building Information Modelling (BIM) focusing on the legal and contractual implications of BIM. Following the Court of Appeal's decision tin the Systech V Harrington case we also discuss the question of the liability of adjudicators.
There are plenty more articles for your consideration, the links to which are below or you can download a PDF of the full Review by completing the "Download our Annual Review" form. If you would like a hard copy of this Annual Review, please contact Jeremy Glover [1] with your name, company name, address and email.
Annual Review articles
Costs management: what you need to know [2]
Costs management: to exempt, or not to exempt, that is the question [3]
Minimising the costs of e-disclosure in commercial litigation [5]
The need for expert evidence [6]
Changes ahead: public procurement 2014 [7]
Liquidated damages under UAE and UK law: a comparison [8]
FIDIC – enforcing DAB decisions [10]
Can you imply good faith under English law? [11]
BIM: what you need to know [12]
Management contracting – the JCT management contract: a review [13]
Is arbitration confidential? [14]
Case law round-up: adjudication cases from Dispatch [15]
Case law round up: cases from the Construction Industry Law Letter [16]