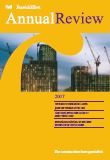 Fenwick Elliott Annual Review 2007/2008
Our 11th Review includes articles on three of the major project forms - JCT, NEC3 and FIDIC. There are features on the latest challenges to adjudication as well as the potential reforms to the Housing Grants legislation. We also outline the reforms to the CDM Regulations and comment on the corporate manslaughter and corporate homicide bill which has finally received parliamentary approval.
The Review also outlines the latest developments in dispute resolution. These include details of the TCC Mediation Survey, changes to the TCC Protocol as well as information about the new project mediation scheme which we have developed in conjunction with CEDR.
In addition, as always, the Review contains its regular round-up of the key construction cases from the past 12 months taken from the Dispatch newsletter and the Construction Industry Law Letter.
If you would like to subscribe to receive a yearly hard copy of our Annual Review, please contact Jeremy Glover [1] with your name, company name, address and email.